Overview
Opportunity Description
The applications are closed for summer 2023.  The next application round will be in fall 2023 for summer 2024. 
Since 2011, the ILR School has partnered with the Swami Vivekananda Youth Movement (SVYM.org), in Mysore, Karnataka State, to develop the India SVYM Global Service Learning (GSL) Program. SVYM is a community development, non-religious, non-political organization working for the benefit of indigenous and rural people in southern India through effective education, accessible healthcare and sustainable empowerment initiatives.
Link to video of the 2022 ILR India GSL Program: https://youtu.be/HOtjYf1Yh68
Link to the 2019 program: https://www.youtube.com/watch?v=_i00C1Q2lGE
Visit the student blog: http://ilrcornellinindia.blogspot.com
What is unique about this program?
Together with Cornell Global Health students, ILR students will participate in 2-weeks of courses in Mysore at the Vivekananda Institute of Indian Studies (VIIS) to prepare for work in their service-learning placements. For more information about the courses of study, visit the courses page. 
Following the initial 2-week learning component, students will move to their SVYM project site and begin their service projects under the supervision of SVYM mentors. Projects will be selected during spring semester before going to India, and an attempt will be made to match the students' top choices and interests with the needs and desires of SVYM. This unique engaged-learning opportunity gives ILR students the chance to use their classroom learning and professional skills to collaborate with SVYM to address a community need.  This cross-cultural exchange & learning and growth in global citizenship can be a life-changing and transformative experience for many students. 
A summer of the program parts:
Part 1. During the first two-weeks in India, students will take courses at VIIS, an arm of SVYM, meet project mentors and visit project sites, and visit cultural sites that are open during the pandemic.
The VIIS courses are:
Indian Civilization and Culture

Gender in India

Indian Labor Relations & Economics or Global Health in the Indian Context (depending on program track)

Basic Kannada (official language of Karnataka State)

Elective course in yoga 
Part 2. 
After the 2-week course period, students will take part in service projects with one of the SVYM's units under the supervision of an SVYM mentor. Students select projects and are matched during the spring semester, prior to the students' departure.
At the end of the project period, students will present their project outcomes to the SVYM and ILR communities.  
Sample of past projects offered by SVYM (note that the projects change year-to-year, depending on the needs of the communities):
ILR-focused projects:   law & alternative dispute resolution, organizational management, policy, governance, child labor, migrant workers, human resources management, corporate social responsibility, education policy, teaching English, palliative care, HIV study, finance and accounting, gender studies, disabilities studies, adaptive leadership project, marketing and fundraising.
Global Health-focused projects: video production on self-administration of insulin and foot care, HIV-AIDs community project, palliative care, research and creation of standard procedures for Ayurvedic (traditional) medicine, business plan for medicine production, educational material for yoga, assessment of patient flow, nutrition study, and designing labels for traditional medicines.  In addition to projects, on occasion, GH students may have the opportunity to shadow doctors in the field or the hospital setting.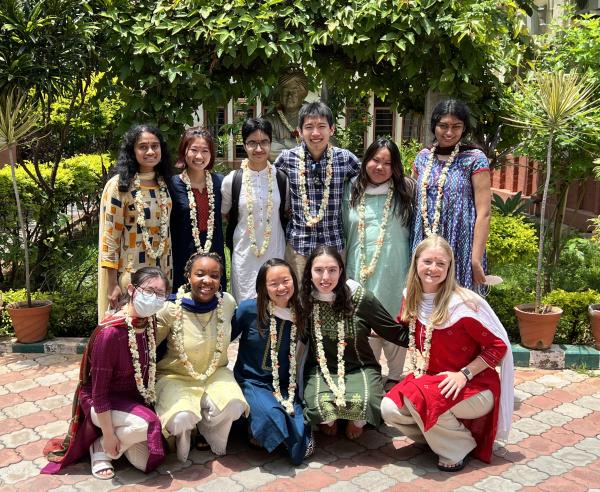 What is unique about SVYM?
In 2015, SVYM was named the #1 NGO in India.  The organization boasts several academic initiatives, including housing a grassroots policy research institute (GRAAM) in collaboration with the Cornell Institute of Public Affairs.
Can I apply for funding?  
Yes, students accepted to program will by assisted by the India program TA in applying for funding and grants to cover the program fee, travel, visa and vaccination costs.  
How do I apply?
Global Health students must apply through the India GH portal.
ILR students:
1) Review the program Requirements.
2) Meet with the program advisor (Donna Ramil, dmr47@cornell.edu) to discuss the program details and your eligibility.
3) Complete the online application by clicking on the "Apply" button on this web page. You must log in with your NetID and password to access the application.