Overview
The deadline has been extended for February 20!
Opportunity Description
Recently completed your PhD and want to harness your deep tech expertise to start a company? Want to do it in New York City and get funding from day one? If so, consider the Runway Startup Postdoc Program.
The Runway Startup Postdoc Program is part business school, part research institution, and part startup incubator. Based at the Jacobs Technion-Cornell Institute, Runway ushers recent PhDs in digital technology fields through a paradigm shift — from an academic mindset to an entrepreneurial outlook.
Startup Postdocs arrive with ideas for unproven products and markets that require time and specialized guidance to develop. These startups demand more than a few months to launch. They need a bit of a "runway." That's why our program lasts 12–24 months and incorporates academic and business mentorship.
Runway provides an impressive package valued at $175,000 in the first year and $102,000 in the second year, that includes a salary, research budget, housing allowance, space and more. In addition, the Startup Postdoc receives significant benefits and perks and corporate support .
Who should apply to Runway?
We're looking for people who possess a passion for applying research to real-world needs, an innate entrepreneurial drive and spirit, and the willingness to be flexible and embrace uncertainty. We're also evaluating candidates based on their ability to work well on a team and communicate effectively.
Our faculty play an important role in the admissions process. They're searching for Startup Postdocs with expertise similar to their own, who they can successfully mentor. If there's a potential match, Runway program directors, faculty and current Startup Postdocs will interview the candidate and hear their startup pitch. These conversations may take place over video conference or in person.
Learn more about the Runway Startup Postdoc Program by visiting our website.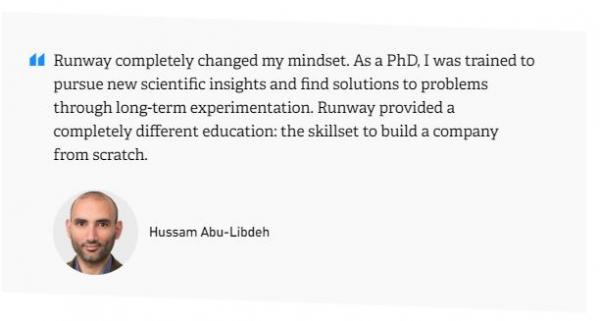 Runway Companies (Current and Alumni)
https://tech.cornell.edu/programs/phd/startup-postdocs/runway-companies/
About the Jacobs Institute
The Jacobs Institute is the academic partnership between Cornell University and the Technion-Israel Institute of Technology on the Cornell Tech campus. The Jacobs Institute fosters radical experimentation at the intersection of research, education, and entrepreneurship. Its mission is to transform key industries through technological innovation, deep-tech startups, and uniquely skilled talent. 
The Jacobs Institute offers three master's programs in Connective Media, Health Tech, and Urban Tech. The programs equip students to take on complex, real-world challenges through interdisciplinary, domain-focused work, and students receive dual degrees from the Technion and Cornell. Recent PhD graduates work through the Jacobs Runway Startup Postdoctoral Program to apply their knowledge as they lead teams and build companies in industries critical to the 21st century.