Overview
Opportunity Description
Oaxaca is one of the most exciting cities in Mexico. Located in a valley surrounded by three mountain ranges, Oaxaca is beloved for its legendary culinary scene, indigenous artistic traditions, and environmental and cultural richness. During this 10-day program, we will intertwine the exploration of Oaxaca and the breathtaking natural areas and archeological sites around it, with assignments and instruction to elevate your writing. Students will research and write about complex or controversial cultural, social, or environmental issues that interest them. This will increase their comprehension and appreciation of the relationship between the environment, people, and culture in one of the most interesting parts of Mexico. Among the expected field trips, expect a moderate level of physical activity. We will visit Monte Alban, a pre-Colombian archeological site of sacred topography carved out of a mountain that was inhabited for more than 13 centuries. We will hike in a cloud forest and learn about medicinal plants. We will witness a demonstration by Zapotec artists creating world-renowned, vibrant textiles with natural dyes, a tradition passed down through generations. We will visit a Sunday "Mercado", an enormous open-air market that attracts merchants and artists from all over the region. Enjoying culinary delights will be a daily occurrence.
When not physically exploring Oaxaca, we will engage in in a different kind of exploration – how to translate the experiences into compelling prose for diverse media formats and audiences. Assignments include several popular media formats, such as travel blogs, creative non-fiction, op-ed, and scripts for short-form video. This is a writing intensive. You will be writing every day and have homework overnight. The two instructors will provide individualized and detailed feedback to assist in honing written communication skills.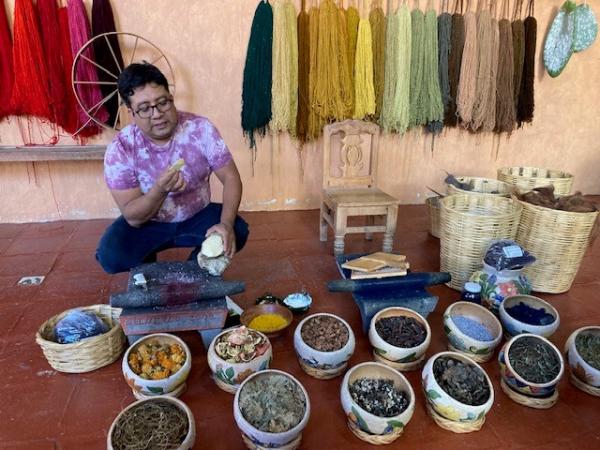 Travel Dates:
January 3-13, 2024 (Tentative)
This program is a winter term course titled Experiential Writing in Oaxaca, Mexico. Limited to 11 students.
COMM 3090 Experiential Writing in Oaxaca, Mexico (3 credits)
(Winter 2024, Travel: January 3-13, 2024)
Faculty
Lauren Chambliss, Senior Lecturer, Department of Communication, College of Agriculture and Life Sciences
Michelle LaVigne, Senior Lecturer, Department of Communication, College of Agriculture and Life Sciences
*Some program information questions in 'Application Preview' below may not be applicable to this program. Course background will be asked if relevant to that particular short-term program.