Overview
Opportunity Description
What is CLASP?
The Community Learning and Service Partnership (CLASP) is a participatory lifelong learning program designed to create and support one-on-one mutual learning partnerships of Cornell employees and Cornell students.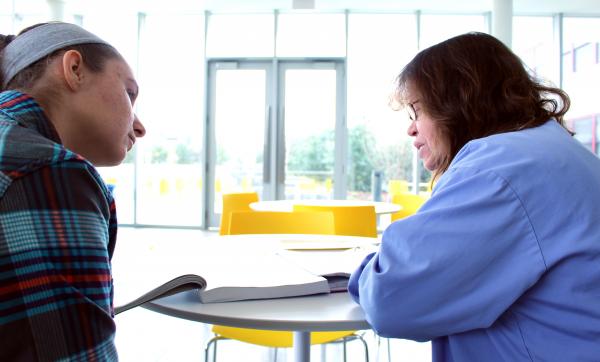 Student participants in CLASP must be enrolled in (or have previously taken) one of the associated courses. Courses with a CLASP practicum include 
EDUC 2200/DSOC 2100, 4 credits
Introduction to Adult Learning: Education Workshop
(offered in the fall semester)
EDUC 2210/DSOC 2210, 4 credits
Designing and Facilitating Learning for Development (offered in the spring semester)
Two special topics courses will be offered in Fall 2020: 
EDUC 4940 (a), 4 credits. Special Topics in Education: Lifelong Learning and Sustainability  
EDUC 4940 (b), 2 credits. Special Topics in Education: Teaching English to Adult Learners
CLASP matches employees interested in pursuing self-selected learning goals with students studying adult and community education.  Meeting for one hour per week over the course of eight weeks, each Learning Partner pair focuses on the employee's goals, while both the adult and the student benefit from the working relationship.  The employee gains a supportive learning mentor while the student serves as an adult educator, applying in real life the principles and methods of adult learning studied in class.
CLASP-associated courses fulfill several student requirements. For CALS students, EDUC 2200 and EDUC 2210 satisfy the Diversity (D) requirement as well as well as the Knowledge, Cognition, and Moral Reasoning (KCM) requirement. Both courses count toward the Education Minor, the Minor in Inequality Studies, and the Leadership Minor. Both are also recognized as Community-Engaged Courses (CEL).
Since its inception in 1990, the CLASP program has advanced: 
Access to educational opportunity to further human potential;

The abilities of individuals to gain greater agency and fulfillment; and,

Appreciation of similarities and differences between people through relationships of mutual respect.
What kinds of educational goals do employee learners pursue?
·ELL/ESL: English language practice
·ABE: Literacy and adult basic education
·HSE: High school equivalency preparation
·Computer 1:  Introduction to computer basics
·Computer 2: Intermediary web, mobile, media
·Office Productivity: Computer applications
·Career Development: resume writing and skills for career advancement
·Food safety test study
·Citizenship exam preparation
·Other:  Study Buddy for those taking college courses
Who are the employees who take part?
The vast majority of the adult learners are service employees working in Dining Services or Facilities.  A small, but growing number of Statler employees are taking part.
Adult learners of all ages participate in CLASP.
A significant proportion of CLASP employee participants are originally from countries other than the United States with a notable percentage from Southeast Asia.
Who are the students who take part?
Student participants come from all undergraduate degree-conferring colleges and schools across campus.
What do employees say they gain through CLASP?
Among the achievements adult learners cite:
Being able to help their children with homework;

Gaining a promotion or new position;

Becoming a US citizen;

Taking on new responsibilities in the community;

Discovering new interests and abilities; and,

Completing a formal educational credential.
For more information, visit us at clasp.education.cornell.edu, email us at CLASP@cornell.edu, or call us at 607.255.7633.